Written from the heart, Marty Parkes tells the true, touching story in The Children's Front of an American expatriate, Seymour Houghton, who together with his wife Germaine, labored to establish a wartime haven for children displaced or orphaned during the ravages of World War II in France.  Forced to leave France after the United States declared war and to leave Le Refuge in the hands of his wife, Seymour Houghton joined the OSS, rallied support for the Refuge through the American Red Cross, returned again in post-war France to pursue his undertaking at the orphanage.
Le Refuge des Petits in Hyères, France, was one of the earliest French charities supported by FAAFC's founder Mrs. Simone Smith, with FAAFC and its predecessor providing clothing, funding and encouragement over decades.
A TALE OF COMPASSION AND COURAGE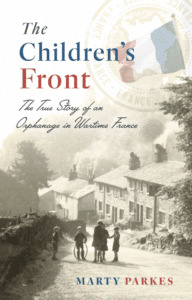 "[...] This book is full of inspiring stories of resilience, generosity, and hope from the staff and youngsters who made the Refuge their home in the early 1940s and later." Overview -Barnes & Nobles
Marty Parkes is an experienced book author and journalist who has published articles in varied publications such as The New York Times, Golf Journal and Sports Illustrated. He has authored or contributed to six previous books including: Classic Shots and Disrupter.